SPECIAL: Stay 7 nights, pay for 6 nights*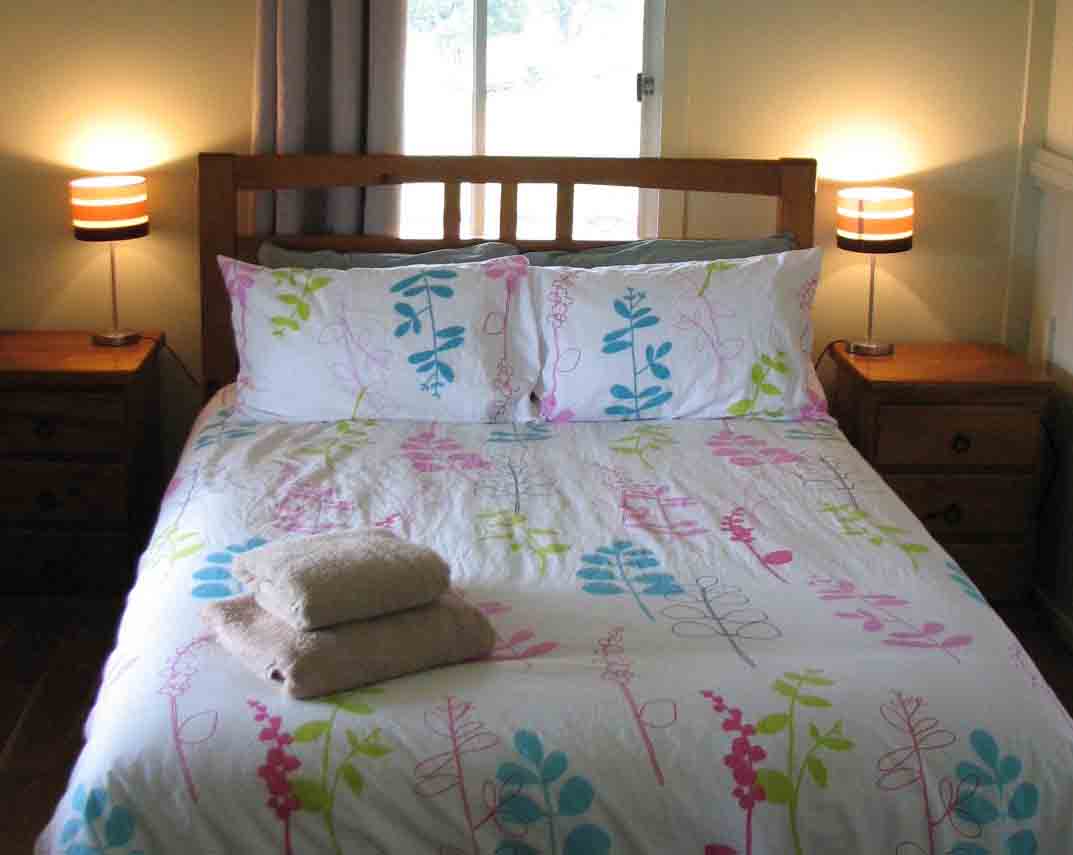 Double Room
Our cozy little double room has a comfy double bed to sleep a couple, or a couple of kids, or some people just prefer a double bed! Whatever the case may be, this room can sleep up to 2 people. With views from every window in the house, you will love this room.
Book Now
With Stunning views, our 3 bedroom house sleeps up to 6 guests and is a true country farm retreat. Located in Mundubbera on the Burnett Highway, this perfect stopover between Brisbane and Rockhampton also provides guests with farm fresh eggs & bacon to cook for brekky! Read More…
The space
With 360° views of the rolling countryside, it's easy to forget that you're only a few hour's drive from the coast.  Located on the Burnett Highway in the naturally beautiful North Burnett Region , Jerakala offers a 'Home away from home' experience.  With every room in the house enjoying breathtaking views, nature walks literally on your doorstep and plenty of space for work, play or relaxation, Jerakala B&B is an ideal getaway for everyone.  In this fully self-contained house you are going to love waking to the sunrise and preparing your home cooked breakfast in the country kitchen with food supplied fresh from the farm gate.Whether you are traveling alone or with someone, in a group or with a family, you will sleep in true country comfort with a choice of 3 spacious Queen, Double or King Single Rooms.  Whether you are taking in the country air from the sprawling verandah, kicking back in the TV room or working on your next project, Jerakala B&B will energise and inspire you.
It's a great family holiday destination and the children are going to love the farm animals. We have cows, horses, pigs, dogs, and chickens!  You will find a great collection of family board games to keep you entertained too!  If you are looking for something else to do in the area you can explore Auburn Falls National Park, visit the RM Williams Centre or take a day trip to the stunning Cania Gorge.
There really is something for everyone and you will want to come back, time and time again!
Guest access
Guests will have access to the entire house and generous outside entertaining area.
Other things to note
There is no town water at Jerakala B&B so we do ask you to preserve as much water as possible. i.e. turn the taps off while brushing your teeth and don't take too long in the shower. The good news is that the water is natural rain water, and therefore beautifully refreshing to drink.
For a perfect start to the day a farm fresh eggs and bacon (or sausages) breakfast pack will be in the refrigerator waiting for you to cook.  You are also welcome to bring your own food and utilise the facilities to prepare your own meals.
We do not provide wi-fi conncection, however the location enjoys great mobile coverage so access to data is also possible with your own mobile phone.
Please tidy the kitchen and wash the dishes prior to departure. If excessive house cleaning is required, additional fees will be charged.
Please also note that this is a farmhouse. We do our best to keep the wildlife at bay, but you may encounter the odd daddy long legs, a cheeky mouse or naughty frog from time to time. We apologise in advance if this is the case, but these critters seem to have a mind of their own.  Please know that we do what we can to keep them out of the house.
There is also livestock roaming the paddocks, cows and horses mostly and they tend to make a bit of a mess if they are allowed into the house yard!  The house yard is completely fenced to keep them out, so please keep the house yard gates shut.
Most of all……relax and enjoy your stay in the country!
Details
Availabilty
Reservation Form